QUICKTICKET™ is a way to play Powerball® or Mega Millions®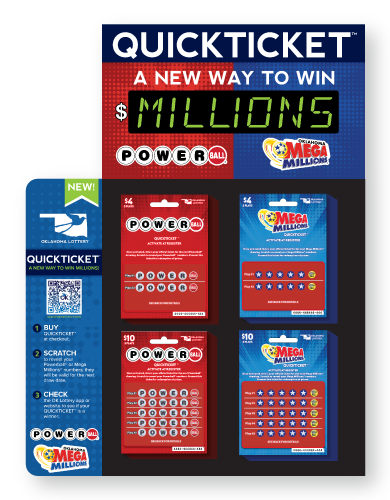 QUICKTICKET™ is a way to play Powerball® or Mega Millions®
IT'S EASY TO PLAY:
1. BUY QUICKTICKET exclusively at stores.

2. SCRATCH to reveal your Powerball or Mega Millions numbers; they will be valid for the next draw date.

3. CHECK the Oklahoma Lottery app or website to see if your QUICKTICKET is a winner.
FAQS
How much does QUICKTICKET cost?
QUICKTICKET is available for Powerball or Mega Millions drawings. It is sold in two denominations: $4 QUICKTICKET, with 2 Plays per ticket (2 lines of numbers) and $10 QUICKTICKET, with 5 Plays per ticket (5 lines of numbers).
Can I add Power Play® or Megaplier® to my QUICKTICKET?
Power Play and Megaplier are not available for QUICKTICKET and each QUICKTICKET contains Easy Pick numbers only.
What is the purchase cut-off time to be eligible for the next drawing?
QUICKTICKET can be purchased until 8:59 pm the evening of the drawing to qualify for the draw date.
How do I cash a winning QUICKTICKET?
Winning QUICKTICKET cannot be cashed at Dollar General stores; they must be cashed at a traditional Oklahoma Lottery retail location through an official Oklahoma Lottery terminal. Players can find a location on the Oklahoma Lottery app or by clicking here.